AIAPGET 2022: Exam (Oct 15), Dates, Eligibility, Syllabus, Pattern
AIAPGET 2022 exam: NTA has announced AIAPGET 2022 exam date. As per the schedule, the exam will be held on October 15 in two shifts. The timing for Ayurveda paper will be 10 am to 12 pm while for Homoeopathy, Siddha and Unani, the exam timing will be 3 pm to 5 pm. All the papers will be held in two languages except Homeopathy which will be in English only. Ayurveda will be held in English and Hindi while Siddha and Unani will be in English, Tamil and English, Urdu respectively. NTA has not released date to release admit card for AIAPGET 2022. The admit card is issued to those who apply successfully and fulfil the eligibility criteria. AIAPGET 2022 admit card will be uploaded online and candidates will have to download it from the official website, aiapget.nta.nic.in.Candidates will have to download the admit card from the official website, aiapget.nta.nic.in by providing login details such as registration ID and password. The application process for AIAPGET 2022 exam has already been completed. National Testing Agency (NTA) has started online registration on July 25. The deadline to submit AIAPGET 2022 application form was August 27.
All India AYUSH Postgraduate Entrance Test, commonly known as AIAPGET, is conducted for admissions to the postgraduate courses in Ayurveda, Unani, Siddha and Homeopathy. The National Testing Agency (NTA) on behalf of the Ministry of AYUSH, Government of India conducts AIAPGET exam. It is conducted annually in a computer-based mode. Candidates who qualify for the examination scoring the minimum cut off percentile can opt for MS, MD, or PG diploma courses in the above-mentioned disciplines. Admission for MS, MD, or PG diploma courses in Ayurveda, Unani, Siddha and Homeopathy is given on the basis of merit. Those who qualify AIAPGET 2022 will be asked for counselling round which is conducted by AYUSH Admissions Central Counseling Committee (AACCC). Read all details about AIAPGET 2022 here.
AIAPGET 2022 highlights comprise crucial exam-related details. It contains the date of the exam, conducting body, application mode, total number of seats offered and other important details. Candidates should refer to the table given below for AIAPGET 2022 exam highlights.
Highlights 

Name of the examination

All India AYUSH Postgraduate Entrance Test (AIAPGET)

Conducting body

NTA

Exam level 

Postgraduate exam at National level

Exam frequency 

Annual

Mode of exam

Computer-based test

Total registrations

28,001 (2021)

Courses offered

MS, MD or PG diploma in Ayurveda/ Homeopathy/ Unani/ Siddha

Exam Fees

2,700 (for general and OBC)

1,800 (for SC,ST, PwD)

Exam duration

2 hours

Total marks

480

Total number of questions

120 (Increased in 2021)

Marking Scheme 

+4 mark for right response

-1 for wrong response

Zero mark for no response

Language/Medium of exam

Ayurveda: English and Hindi

Unani: English and Urdu

Siddha: English and Tamil

Homeopathy: English only

No. of test cities

93

Total seats

2,274

Official website

www.aiapget.nta.ac.in
AIAPGET 2022: Important Dates and Events
Events

AIAPGET 2022 Tentative Dates

Salient Features

Online registration

25-Jul-2022

Candidates will have to register online
They will have to provide a valid email ID and phone number

Last date to submit the application form

18-Aug-2022

27-Aug-2022

The applications have to be submitted  online

Correction window for the application form

20-Aug-2022 to 22-Aug-2022

29-Aug-2022 to 31-Aug-2022

Candidates can edit the details filled in the application form
One time window only

Admit card

To be announced

Will be released on the official website of NTA
Candidates will have to login to their accounts to download admit card

Exam day

15-Oct-2022

Exam will be held in online mode

Answer Key release

To be announced

Answer key will be released on the official website
Candidates will be able to calculate the probable score in the exam

Results

To be announced

Results will be announced separately for Ayurveda, Homeopathy, Unani and Siddha

Counselling 

To be announced

Counselling will be conducted by the AYUSH Admissions Central Counselling Committee (AACCC)
Those who qualify for the exam will be invited for AIAPGET counselling 2022
AIAPGET 2022 Application Form
The admission process for AIAPGET 2022 exam starts with registration. Aspirants of the postgraduate entrance test have to register on the official website of the NTA AIAPGET. As mentioned above, AIAPGET 2022 is being conducted for admission to postgraduate courses in four disciplines. Therefore, it is important that candidates choose the correct discipline while filling the AIAPGET 2022 application form. Candidates must have a valid email id and mobile number for registration. After completing the registration process and generating the login ID and password, candidates have to fill the AIAPGET application form 2022 and pay the requisite non-refundable registration fee. Candidates must read the information brochure and the instructions in it so that he/she doesn't make mistakes while providing details in the application form for AIAPGET 2022. After submission, a copy of the filled application form must be preserved until the admission process gets over. 
AIAPGET 2022 Eligibility Criteria
The brochure released by NTA contains details of the prescribed AIAPGET eligibility criteria 2022. To be eligible for AIAPGET the following requirements have to be met by a candidate:
Candidates must possess BAMS/ BUMS/ BSMS/ BHMS/Graded BHMS degree
Candidate with a provisional BAMS/ BUMS/ BSMS/ BHMS Pass Certificate (recognized as per the provisions of the IMCC 1970/HCC 1973 Act) can also apply for AIAPGET
Permanent or provisional registration certificate of BAMS/ BUMS/ BSMS/ BHMS/Graded BHMS degree qualification issued by the CCIM/CCH/state board/universities/deemed universities
He/she must have completed one year of internship or is likely to complete the internship on or before October 31, 2022
There is no upper age limit for the candidates appearing for AIAPGET 2022
NTA has not specified the number of attempts permitted to clear AIAPGET, thus a candidate can take the examination as many times as he/she needs to clear it.
Note: Candidates found to be ineligible at any stage will not be permitted to appear in the examination. In an unlikely event of any ineligible candidate appearing and/or qualifying AIAPGET 2022, the result/candidature of such candidate shall be cancelled.
AIAPGET 2022 Admission Process
AIAPGET 2022 admission process comprises many steps starting with registration. The whole admission process has been explained in the infographic given below: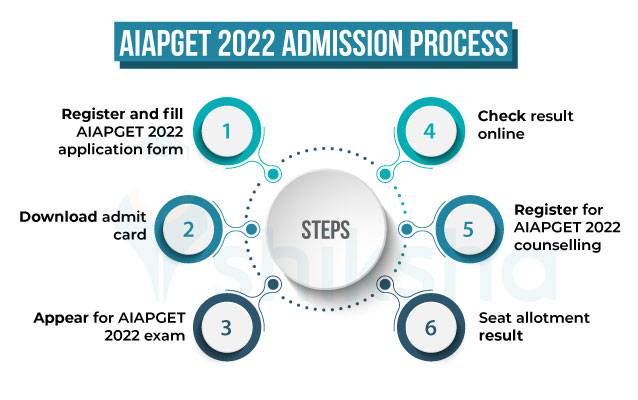 AIAPGET 2022 syllabus comprises subjects and topics which need to be prepared for the exam. Before starting preprataion, candidates should have idea about the syllabus for AIAPGET 2022. AIAPGET syllabus covers all the topics which candidates were taught during undergraduate courses. As AIAPGET 2022 exam is conducted for admission to 4 courses, Ayurveda, Homeopathy, Siddha, and Unani, syllabus varies accordingly. For an example, candidates who seek admission to master's course in Ayurveda need to prepare the undergraduate syllabus for Ayurveda. 
AIAPGET 2022: Courses Offered
Ayurveda
Agada Tantra
Ayurveda Samhita evam Siddhant
Dravyaguna Vigyana
Kaumarabhritya Bala Roga
Kayachikitsa Kriya Sharira
Mano Vigyana evam Manasa Roga
Panchakarma Prasuti evam Stri Roga
Rachana Sharira
Rasa Shastra evam Bhaishajya Kalpana
Rasayana evam Vajikarana
Roga Nidana evam Vikriti Vigyana
Shalakya
Shalya Swasthavritta
Yoga
Unani
Amraze-Atfal
Amraze-Jild-w-Tazeeniyat
Amraze-Uzn-Anf-wa-Halaq
Ilaj-bit-Tadabeer
Ilmul-Advia
Ilmul-Jarahat
Ilmul-Saidla
Kulliyate-Tib
Mahiyatul-Amraz
Moalajat Munafe-ul-Aza
Qabalat-wa-Amraze-Niswan
Tahaffuzi-wa-Samaji-Tib
Tashreehul-Badan 
Homeopathy
Homoeopathic Pharmacy
Homoeopathic Philosophy
Materia Medica
Paediatrics
Practice of Medicine
Psychiatry Repertory
Siddha
Aruvai Maruthuvam Surgery
Gunapadam Pharmacognosy Pharmacology and Pharmaceutics
Kuzhanthai Maruthuvam Peadiatrics
Nanju Maruthuvam Toxicology
Noi Naadal Pathology and diagnostic methods
Pothu Maruthuvam General Medicine
Pura Maruthuvam External Therapy
Siddha Maruthuva Adippadai ariviyal Fundamental Principles of Siddha Medicine
Siddhar Yoga Maruthuvam Siddhars Yogic Science
Sool and Magalir Maruthuvam Obstetrics and Gynaecology
Thol Maruthuvam Dermatology
Varma Maruthuvam Varma Medicine
Candidates should have an idea about the AIAPGET 2022 exam pattern so that they know every aspect of the test paper including the type of questions asked and weightage. AIAPGET exam pattern comprises important details including mode, medium, the total number of questions, time duration, and marking scheme. As per AIAPGET 2022 pattern, the question paper will comprise 120 multiple choice questions of 480 marks and the exam timing will be 2 hours. The exam will be conducted in online mode in two shifts, from 10 am to 12 pm and 3 pm to 5 pm. As per the marking scheme, candidates will get 4 marks for right and -1 marks for the wrong answers. No mark will be awarded or deducted for unanswered questions. 
Upon successful submission of the application, candidates are issued AIAPGET admit card. Candidates have to log in to their registered accounts on the official website of NTA AIAPGET to download the admit card for AIAPGET. Admit card or the hall ticket must be carried to the exam centre in the physical form. Candidates must note that admit card have to be downloaded as NTA doesn't send the hall ticket to the individual candidates. The admit card contains crucial details such as the address of the exam centre and exam-related guidelines. Candidates should cross verify the details on the admit card and in case of any discrepancy, the exam authority must be contacted immediately. 
AIAPGET 2022 Exam Day Guidelines
AIAPGET 2022 admit card
An original, valid and non-expired photo Id proof (Driving Licence, Aadhar card, passport, voter Id, etc.)
One passport size photograph (same as the one submitted with the application form)
Any textual material, Calculator, Docu Pen, Slide Rules, Log Tables, Smartwatch, printed or written material, bits of papers, mobile phone, Bluetooth devices, pager or any other electronic device.
Smoking, chewing gutka, spitting, etc. in the examination hall is strictly prohibited. Instrument/Geometry/Pencil box, Handbag, Purse, Any kind of Paper/ Stationery, Eatables/snacks and Tea/coffee/cold drinks/Water, Mobile Phone/ Ear Phone/Microphone/Pager, Calculator, Camera, Tape Recorder, any metallic item or electronic gadgets, etc. are NOT allowed in the Examination Room/Hall.
Candidates who are diabetic can carry eatables like sugar tablets/fruits (like banana/ apple/orange) and transparent water bottle to the examination hall. However, they will not be allowed to carry packed foods like chocolate/candy/sandwich, etc.
NTA will release list of exam cities for AIAPGET 2022. Candidates can refer to the table given below that contains AIAPGET 2021 exam cities list.
| | | |
| --- | --- | --- |
| Ahmedabad/ Gandhinagar | Guwahati | Mumbai |
| Bangalore | Hyderabad | Nagpur |
| Bhopal | Jaipur | Patna |
| Bhubaneswar | Jammu | Pune |
| Chandigarh/ Mohali | Kanpur | Raipur |
| Chennai | Kochi/ Ernakulam | Siliguri |
| Dehradun | Kolkata | Srinagar |
| Delhi NCR | Lucknow | Surat |
| Thiruvananthapuram | Anantapur | Tirupathi |
| Visakhapatnam | Dharwad/Hubballi | Bikaner |
| Bhagalpur | Gulbarga | Jodhpur |
| Gaya | Mangaluru | Kota |
| Purnea | Leh | Udaipur |
| Bhilai Nagar/Durg | Gwalior | Coimbatore |
| Panaji/Madgaon | Indore | Tiruchirappalli |
| Rajkot | Jabalpur | Tirunelveli |
| Vadodara | Akola | Mahbubnagar |
| Gurugram | Chandrapur | Gorakhpur |
| Hissar | Shillong | Jhansi |
| Karnal | Berhampur-Ganjam | Moradabad |
| Hamirpur | Sambalpur | Noida/Greater Noida |
| Kangra/Palampur | Amritsar | Varanasi |
| Shimla | Bhatinda | Haldwani |
| Dhanbad | Ludhiana | Asansol |
The official AIAPGET answer key 2022 will be released by NTA. The answer key for AIAPGET 2022 will be uploaded separately for Ayurveda, Homeopathy, Unani, and Siddha courses on the official website, ntaaiapget.nic.in. The answer key contains the correct response to all sets of questions asked in the AIAPGET 2022 exam. NTA also provides an option to challenge the answer key in the given duration of time. To challenge the answer key, candidates have to pay Rs 1,000 per challenged question. The subject matter experts then recheck all the answers and release the final answer key. There is no provision to challenge the final answer key for AIAPGET 2022 and the result will be prepared on the basis of the same.
NTA will announce AIAPET 2022 results on its official website. Candidates who will score the minimum cut off percentile will be considered qualified for the exam and they will be eligible to attend the AIAPGET 2022 counselling. The scores will be valid for that particular academic year and it won't be considered next year. Based on the marks secured by candidates, a merit list will be prepared. The merit list contains details such as total marks, percentile secured and All India Rank. A separate list will be released for Ayurveda, Unani, Siddha and homeopathy. Candidates will be able to download the mark sheet cum ranking certificate after the result declaration.
Those who qualify for the exam by scoring the minimum cut off marks prescribed by NTA will be eligible to participate in the counselling rounds. AYUSH Admissions Central Counselling Committee (AACCC) will be conducting the AIAPGET 2022 counselling for All India Quota seats. To participate in the AIAPGET 2022 counselling, candidates will have to register on the official portal and fill in the choice of colleges and courses in which they seek admission. The counselling will be conducted online and will be based on the rank secured by the candidate in the examination. Based on the choice filled by the candidate, All India Rank, the availability of seats, reservation criteria and other factors, seats will be allocated for AYUSH courses. Selected candidates have to report to the allocated institute with the requisite documents for confirmation of his/her admission.